jiadening

By jiadening on October 10, 2019
Congratulations to Professor Xiaotao Bi on being awarded a Fellowship with Engineers Canada. The Engineers Canada fellowships honour individuals who have given noteworthy service to the engineering profession through their work with either Engineers Canada or its provincial and territorial engineering regulators.  Dr. Bi has been a long-time volunteer with EGBC as a member of […]
By jiadening on June 20, 2019
7th World Congress on Particle Technology (WCPT7) 7th World Congress on Particle Technology (WCPT7) was held from May 19 to May 22, 2014, in Beijing, China. The theme of this session of the congress is New paradigm of particle science and technology. WCPT7 is intended to stimulate discussions on the forefront of research in particle […]
By jiadening on June 3, 2019
Fluidization is an important field of both fundamental research and broad industrial applications. Current understanding of the complex fluid-particle multiphase flow patterns, coupled with heat and mass transfer and chemical reactions, is still incomplete. With a long established tradition, this series of conferences has been held all over the world tackling challenges and successes with […]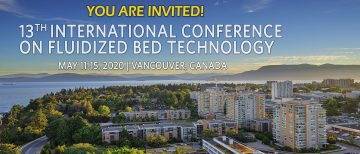 By jiadening on March 29, 2019
13th International Conference on Fluidized Bed Technology (CFB-13) May 11-15, 2020 Fluidization Research Centre Clean Energy Research Centre The University of British Columbia, Vancouver, Canada LEARN MORE AT CFB13.ORG Following the successful CFB-12 Conference in Krakow, Poland, we are pleased to welcome you to the 13th International Conference on Fluidized Bed Technology, CFB-13, to be […]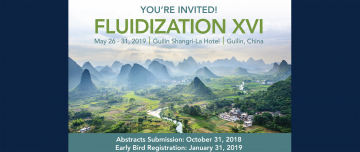 By jiadening on November 21, 2018
May 26-31, 2019 Guilin Shangri-La Hotel, Guilin, China The Fluidization XVI conference aims to bridge fundamental research on fluidization and emerging applications of fluidization and novel fluidization technologies. As the 16th iteration of this conference, it will bring together world renowned experts in the field. Download flyer here: Fluidization is an important field of both fundamental […]

By jiadening on June 6, 2018
China University of Petroleum in Qingdao, China (UPC) is a nationally recognized multidisciplinary university directly under the Ministry of Education. As is a key contributor in both the national "211 Project" and the "985 Advantage Subject Innovation Platform", UPC's spirit of interdisciplinary exploration has fueled many scientific breakthroughs and technological renovations. Particularly, the renowned chemical […]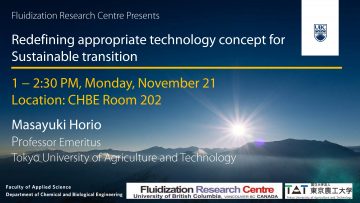 By jiadening on November 8, 2016
Fluidization Research Centre is pleased to present a special seminar by Professor Masayuki Horio from Tokyo University of Agriculture and Technology. Professor Masayuki Horio is a Professor Emeritus in Chemical Engineering from the Tokyo University of Agriculture and Technology; and a former Professor of Policy Science in Ryukoku University. He has long been a […]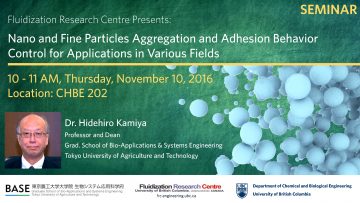 By jiadening on September 28, 2016
Fluidization Research Centre is pleased to present a special seminar by Dr. Hidehiro Kamiya from Tokyo University of Agriculture and Technology. Please find details on poster. Abstract of the talk is available here: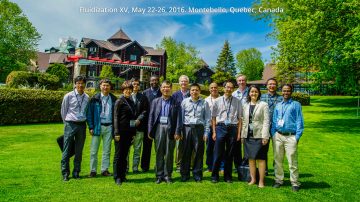 By jiadening on May 31, 2016
Chaired by Drs. Xiaotao Bi, Jamal Chaouki, Franco Berrutihost and Ray Cocco, Fluidization XV conference was held in Montebello, Quebec, Canada during May 22-26, 2016. The conference was dedicated to Maurice A. Bergougnou. More than 200 participants attended the conference. Around 80 papers through the rigorous peer review will be published as a special issue on Powder Technology. The four-day conference consisted of […]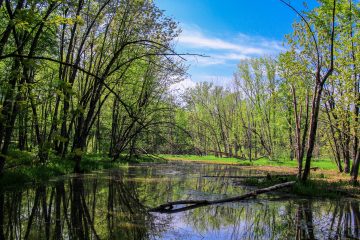 By jiadening on May 25, 2016
For more information please check the following PDF attachment. SI Biomass Feedstocks brochure Deadline is October 1st, 2016 for full paper submission.